Our Founder
About Arin Amanda Prisand
A Timeline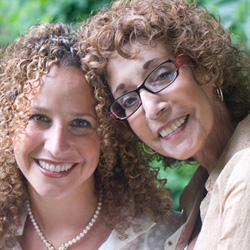 My mother and me, July, 2008
Most of my adult life, I thought about spreading positive energy to patients and creating the Hannah Banana Foundation. With my mother still alive to help build the foundation, to know that her positive attitude and creativity was helping other patients smile, to draw the logo herself, and help choose the therapeutic gifts - there was no time, but the present.
March 1, 2008..........I spoke to a lawyer about setting up the Foundation
March 21, 2008..........Hannah Banana was incorporated in NY State
May 27, 2008.........."Hannah Banana Day" at Mt. Sinai Hospital, NYC
July 1, 2008..........HannahBananaFoundation.org, the website, was launched
July 6, 2008..........I found a lump in my right breast
July 10, 2008..........I was diagnosed with Breast Cancer
August 5, 2008..........Insertion of a port, and my first Chemotherapy treatment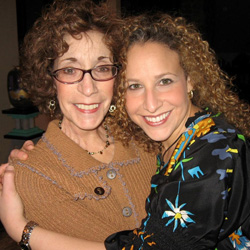 My mother and me, January, 2008
Influenced by my mother's positive energy and optimistic attitude since she was sick when I was two years old, I don't know any other way to deal with my own diagnosis, but to fight the illness, embrace it with a sense of humor, and be confident in my treatment plan. I will have eight chemotherapy treatments, surgery, and radiation. By springtime, I should back to my own self (with shorter hair). Cancer will be a blip on my radar screen.
Having said that, I have become not only a care giver to my mother, but also a patient. I have to listen to my body and work to get better.
During my first chemotherapy session, my parents and I completed adult coloring book competition pages. I finished a word find and tried to make origami airplanes. During my second chemotherapy session, my father beat me in scrabble. The fact is, we always played these games in hospitals. Now, I am the patient.
The purpose of Hannah Banana Foundation has become clearer to me and even more important as I see myself giggle at the games we play, and I am reminded that a positive attitude is everything. I have gained perspective. Laughter is truly the best medicine.
Arin Amanda Prisand
August 26, 2008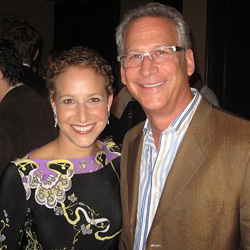 My father and me, April, 2009
Updated Timeline
October 23, 2008..........Hannah Banana Foundation First Gala Benefit
October 30, 2008..........Hannah Prisand, my mother, leaves us
December 9, 2008..........Surgery to my right breast
January 27, 2009..........My first treatment of radiation
April 1, 2009..........Removal of the port
April 4, 2009..........Hannah Banana Foundation volunteers pack bags of activities for 1,000 patients at five hospitals
May, 2009..........Dance Backwards, the book, is published and available for sale
I have faced the challenge of breast cancer and can call myself a Survivor!
Along the way, I focused on becoming well, active, and healthy. I completed many word finds, dedicated my energy to the Foundation, and worked on publishing my mother's book of poetry, "Dance Backwards."
Hannah Banana Foundation is reaching patients and accomplishing its mission. I look forward to seeing how it continues to grow and to help patients smile.
I am truly thankful for my friends, family, and all Hannah Banana Foundation volunteers. You helped make my recovery process easier, and the Foundation flourishes because you are involved.
With love,
Arin Amanda Prisand
April, 2009